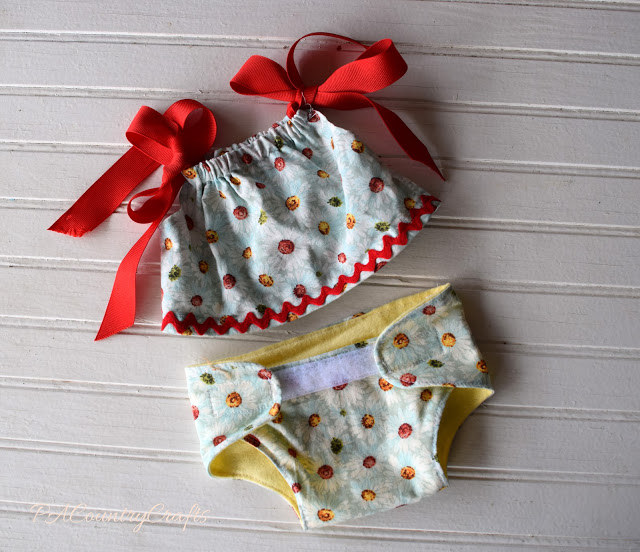 My daughter got this adorable Furreal Friends monkey for Christmas. It really is super cute, even if the nose ripped in the first day or two. (She also got a dog two years ago and it broke in the first few days. If these things weren't so cute that she still loves them immensely I would stop buying them due to the poor quality). There was also another problem. The bottom holds the batteries and there is a furry flap to cover it, but there is nothing to keep that flap in place other than the cheap disposable, plastic diaper that it came with. Those tabs had ripped long ago and she kept taping it back together.
Well, just before Easter I was in a mood and didn't feel like sewing the Easter dresses. So, when all of the girls fell asleep early and the boys were out fishing on Good Friday night, I had some peace and quiet(ish) with my sewing machine. Sewing is my therapy. But I wanted to make something that was easy and could be completed in one sitting. I have too many unfinished projects.
I originally had a doll diaper pattern that I thought would work, but after I had made two of them, I tried them on the monkey only to find out they were too small. So, I started over and drafted my own pattern.
I even pulled out some of my "good" fabrics for this because I want to stop hoarding so much. The insides of the diapers are made of flannel remnants I got for super cheap at Joann's.
Then, while I was at it, I made a little pillowcase top to match one of the diapers. I didn't finish the inside seams or anything. It was just a quick project because I was just starting to get my sewing groove back.
I tucked these in her Easter basket and she loves them! Sometimes it is nice to do a quick and easy project like this.