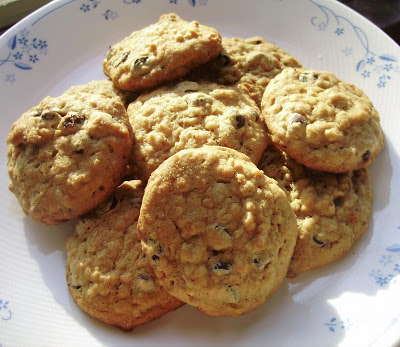 I like to just throw things together when I cook/bake. I saw Martha Stewart just dumping vanilla out once and was truly inspired! I NEVER measure vanilla anymore cause Martha doesn't do it so I don't have to! This non-measuring technique can get carried away sometimes.
I was so hungry for oatmeal chocolate chip cookies and couldn't find a recipe. SO I just threw a bunch of stuff together and ended up with a DELICIOUS cookie! BUT this backfired because there was no recipe and it took about a half dozen attempts to recreate them perfectly. I finally got is, so here is the new recipe!
My Cookies
1 cup softened margarine
3/4 cup brown sugar
3/4 cup sugar
1 tsp. vanilla
2 eggs
1/2 cup peanut butter
1 tsp. baking soda
1 1/2 cups flour
1 1/2 cups quick oats
1 bag chocolate chips (I prefer Hershey's Special Dark)
Blend together sugars and margarine. Add eggs and vanilla. Stir in peanut butter and mix until creamy. Mix in dry ingredients and lastly, the chocolate chips. Drop in spoonfuls on cookie sheets and bake at 350 degrees until the edges start to turn lightly brown (do not overbake) about 10 minutes.
I hope you like them! You definitely need some milk to go with these